Dental Implants – Goodyear, AZ
The Closest Tooth Replacement to the Real Deal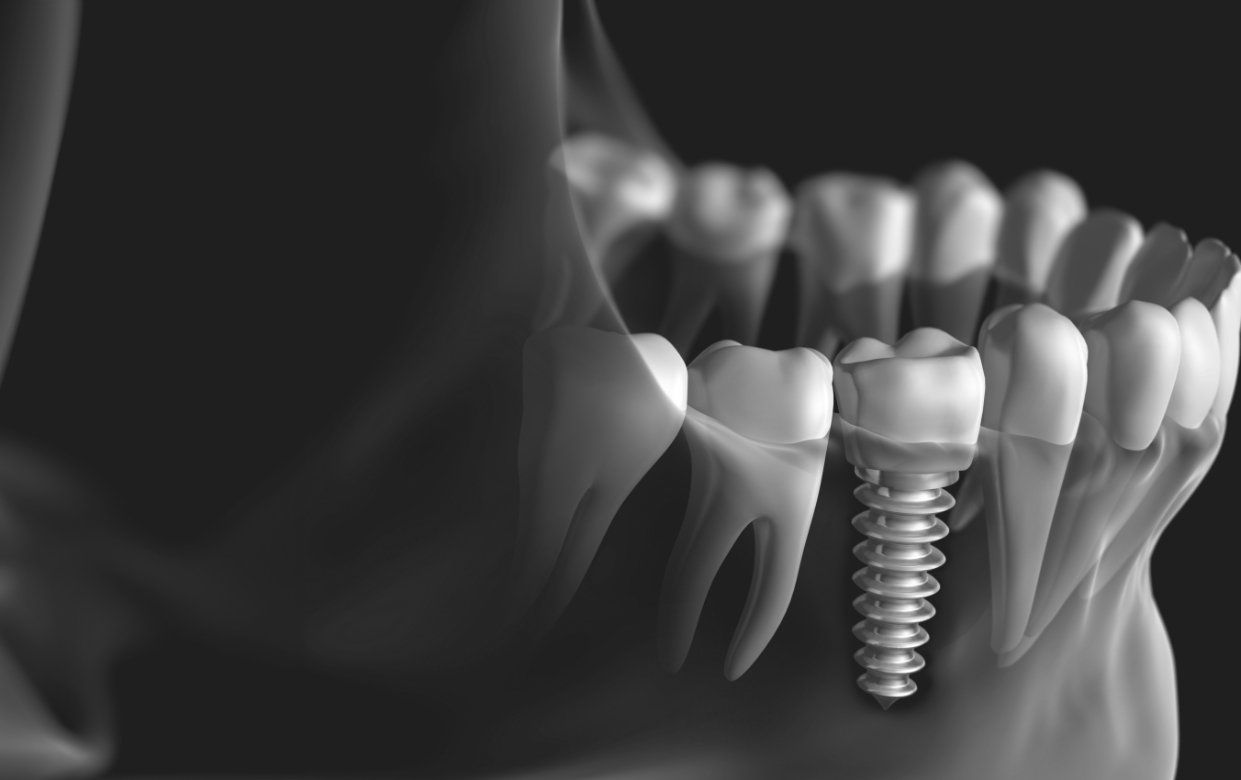 Over the last couple of decades, the dental implant procedure has been nearly perfected and boasts an impressive 98 percent success rate. Due to its unique properties, it's one of the most popular tooth replacement solutions among patients. By restoring both the missing root and biting surface of teeth, it's able to provide patients with a prosthetic that looks and feels completely natural. This leads to boosted confidence and improved overall quality of life. To learn more, you can read below or contact our dental office to schedule a consultation with Dr. Wheeler to discuss replacing missing teeth with dental implants in our Goodyear, AZ dental office.
Why Choose Goodyear Family Dentistry for Dental Implants?
Start-to-Finish Dental Implant Treatment
KaVo 3D Cone Beam CT Scanner
Medit i500 Digital Impression System
What is a Dental Implant?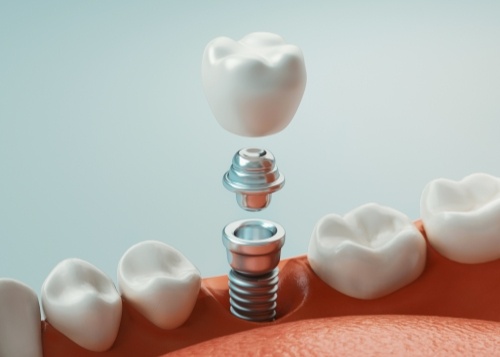 A dental implant is a small, titanium post that is surgically placed below your gums and into the jaw to restore the root of a missing tooth. Due to its biocompatible nature, it's able to naturally fuse with the jawbone to provide it with blood flow and stimulation. Once the fusion is complete, a small, metal connector piece is attached to the implant that will hold a restoration. Depending on your unique tooth loss situation, you can have a crown, bridge, or denture secured to your implant posts to restore your smile.
Benefits of Dental Implants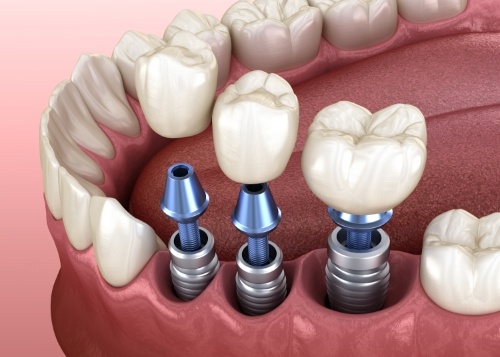 Dental implants offer a slew of unique benefits that sets them apart from traditional restorative treatments. Some of the advantages that you'll be able to enjoy with dental implants include:
Lifespan of 30+ years
98 percent treatment success rate
Preservation of jawbone density
Prevent sagging, hollow-looking, and drooping facial features
Natural looking and feeling replacement teeth
No need to worry about unstable restorations
No alteration of your surrounding teeth required
Enhanced eating and speaking abilities
Are Dental Implants Right for You?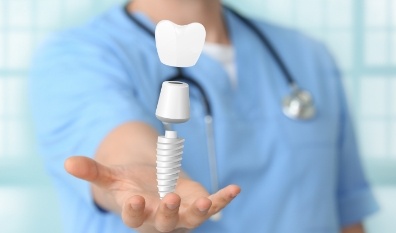 The best way to learn whether dental implants are right for you is to schedule a consultation with Dr. Wheeler. Our team will conduct a thorough examination of your mouth and take X-rays to determine whether you would be a good candidate for the procedure. Typically, we look for some of the following traits in a good dental implant candidate:
Sufficient jawbone density
Dedication to maintaining good oral hygiene
Good oral health
Free of autoimmune diseases
If you don't meet all of these requirements right away, there's no need to worry. We offer preparatory procedures that can help get you there over time. Once we determine that implants are right for you, we'll develop a customized treatment plan and walk you through it.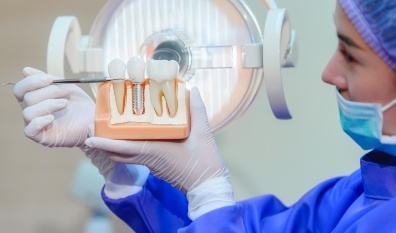 Missing Single Tooth
To restore a single missing tooth, we can place one dental implant in the gap between your teeth below the gums. The post will secure a customized dental crown into place, restoring your completed smile.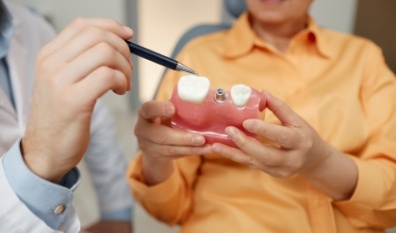 Missing Multiple Teeth
If you're missing two or more consecutive teeth, we can place a bridge secured to two dental implant posts located at either end of the gap in your smile. That way, instead of needing to alter your natural teeth to anchor the prosthetic, the implants will provide it with unwavering support.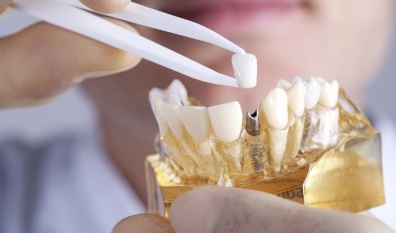 Missing All of Your Teeth
An implant-retained denture can be attached to anywhere from four to eight dental implants located at various positions in your arch. Once attached to the posts, you won't have to worry about slipping or shifting dentures.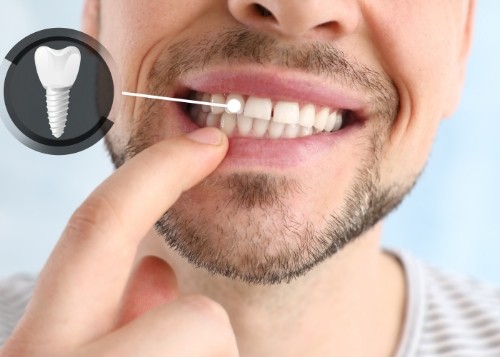 All-on-4/Teeth-in-a-Day
For patients who are missing an entire arch of teeth and don't want to undergo the waiting period between implant surgery and the placement of your restoration, we also offer Teeth-in-a-Day. On the day of your surgery, we'll place a load-bearing denture so you don't have to go through an extended period of time without your pearly whites.
Understanding the Cost of Dental Implants
To find out the price of your dental implant treatment, we'll need to first examine your mouth and confirm several cost-determining factors. This includes the number of implants you need placed and any specific treatments you have to complete before surgery can be performed. Keep in mind that while dental implants are more expensive on average, you truly get what you pay for in terms of your tooth replacement. At your initial consultation, we'll discuss all of these details with you and walk you through a breakdown of the price of treatment.
Preliminary Treatments & Dental Implant Surgery
It's relatively common for patients (especially older folks) to need preparatory treatments prior to dental implant surgery. For example, gum disease therapy or tooth extractions could be necessary to ensure a safe implant placement. This can increase the overall cost of your care. Your surgery can also have its own unique costs depending on the number of implants being placed and the amount of anesthesia needed. Dr. Wheeler keeps the entire process in-house, so your fees should be more compact and convenient overall compared to traveling to an implant surgeon offsite.
The Parts of Your Dental Implant
The more implants you need to have placed, the more materials we'll need. This includes not just the titanium posts themselves, but the abutments that go inside of them as well. Keep in mind that there are also many different types of dental implants from different manufacturers that can fluctuate in cost. We're happy to break down the specific implants we use, why we use them, and why you can feel confident about your upcoming surgery.
Final Dental Implant Restoration
When more dental implants are needed, a more complex restoration is needed as well. For example, a series of implants would pair with an implant denture, a restoration that requires more materials and time to design and fabricate. In comparison, a single implant only needs a dedicated crown, making this portion of your treatment substantially cheaper. No matter what restoration you receive, you can expect your replacement tooth to be durable, long-lasting, and incredibly lifelike.
Does My Dental Insurance Cover Dental Implants?
In most cases, dental insurance will not cover the cost of dental implants. There are a few exceptions, however, where insurance could cover portions of specific phases of treatment. For example, you may receive coverage for treatments required ahead of implant surgery, like tooth extractions or gum disease therapy. The restoration can also receive coverage in certain cases. Keep in mind that every plan varies and coverage likely applies only for a certain percentage and rarely the entire cost of treatment.
Making Dental Implants Affordable
Those without dental insurance can still make their tooth replacement affordable through alternative financing options. For example, you may want to look into third-party options like CareCredit, a service that allows you to pay for care in monthly installments instead of one lump sum. These payment plans also come with little to no interest attached, making it even easier to fit into your budget. Our office also provides special offers on certain dental services, including a $999 special for dental implant posts.